I love the idea of original home decor. Seriously, I am over wanting what everyone else has. I've even dropped my love of Coach purses...ok...I still love them but I'd rather have a cute boutique find that no one else has!
That being said I feel the same way about my house. I don't want to decorate with items every neighbor has in her house...I want to be ORIGINAL. So I was in the garage last week and stumbled across this picture frame that I ALMOST gave to Goodwill...(why???)
Then I got the good idea to paint it...but the stand wouldn't separate from the frame...hmmmm? I decided it's tooooo cute to give away, I think the old saying "absence makes the heart grow fonder" is true in this case! I love that cute little frame...but what to do with it? I decided instead of putting just another photo in there I would turn it into a cute holiday decoration. I don't have too many Valentine decorations so I came up with this little number...and I am sharing my steps. It was simple and except for drying time it came together very quickly.
I picked out some cute paper, traced the glass and cut. Easy. Yes, Mom, even you could do this!
Next, I found a chipboard heart in my scrapbook stash and painted it cream. I used Making Memories paint. I think the color was called "manila". I gave it 2 coats and 20 minutes to dry. I could have cut a heart out of vinyl too but I wanted it to have a 3-D look to it...FUN!
Then I chose to use my ever trusty "sticky tack." It was one of my best teacher supplies and I still keep it around the house (need it when I want to hang a good paper or piece of art on the fridge, magnets don't work on stainless steel!) By the way, I personally love the original blue sticky tack the best, it holds better. I could have used foam dots or large glue dots but I didn't want to keep it this way forever and I didn't want to spend time cleaning the "stick" off the glass! (learned my lesson one Halloween with those cute Martha Stewart decorations I just HAD to stick to my sliding glass doors...ugh!)
And there you have it...the finished project. I looks great in this little nook in my kitchen. I love that it's original and it was a FREE project! Gotta love those! Next week I'll share Emily's Valentine box and Valentines...oooooh! I am so EXCITED about these!!! xoxoxo
Happy Valentine's Day!
I am linking up to Frugal Friday at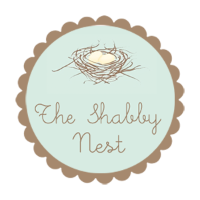 Also linked up at http://becca-homeiswheremystorybegins.blogspot.com/